Adam Koerner - Senior Associate Director, Culinary Operations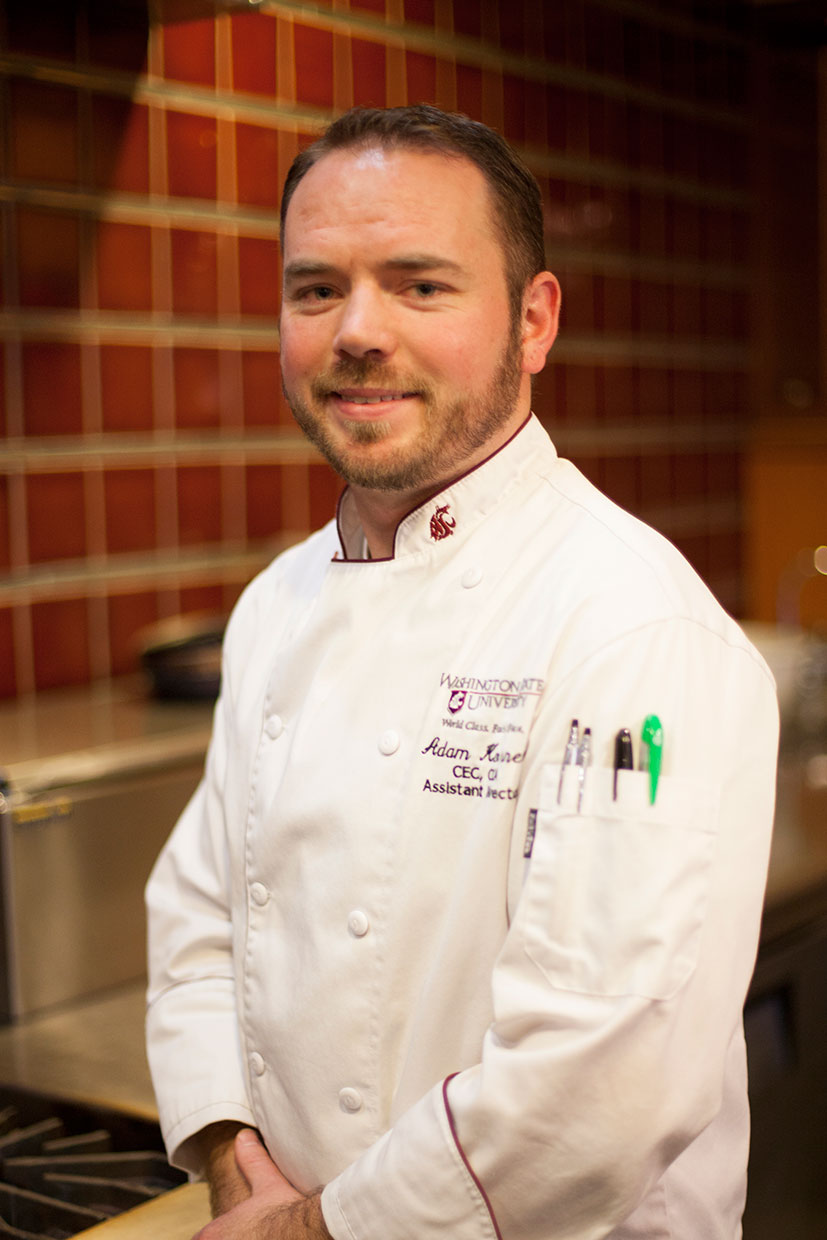 Chef Adam Koerner developed his passion for cooking while helping his mother in the kitchen when he was young. Unknowingly, she instilled in him a love of food transformation that would eventually become a career. After two short quarters at Eastern Washington University, Chef Adam left college to pursue his true passion at Western Culinary Institute in Portland, OR. While attending classes, Chef Adam worked at multiple local restaurants honing his skills and techniques. After graduating, he accepted the advice and knowledge of numerous Seattle chefs at restaurants such as Volterra, Kathy Casey's Food Studio, and Cacioppo Brothers. In 2009, Chef Adam said goodbye to Seattle and moved to Colfax, WA. He was the owner/operator of The Top-Notch Cafe for three years before accepting a position at WSU. Chef Adam has attained American Culinary Federation certifications for both Certified Executive Chef and Certified Culinary Administrator. In his spare time, Chef Adam enjoys spending time with his wife, children, and their dogs.
Howard Campbell - Executive Chef, Southside Cafe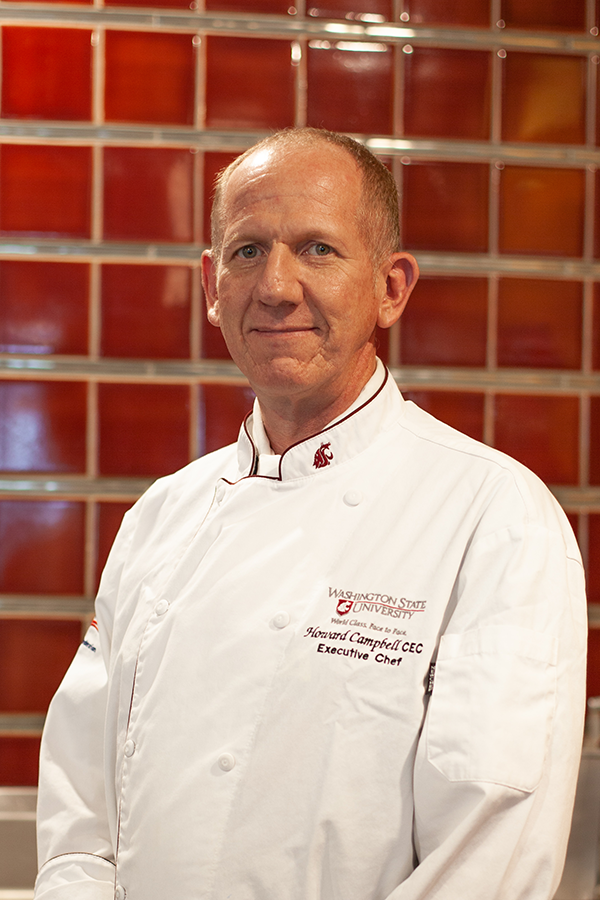 Chef Howard Campbell began working in kitchens over thirty years ago at the age of fifteen. His first profession was as an "oyster- shucker" at a seafood restaurant in Florida. He worked his way up in seafood restaurants through the various workstations of kitchen until he was prepared to finish professional training. Chef Howard was selected for an American Culinary Federation apprenticeship with a Mobile Five Star resort in coastal Georgia, where he was given formal training in classical French cuisine. Three years later, he accepted a journeyman position within the resort as saucier, where he specialized in the production of stocks, soups and fine sauces. Within a year as journeyman, Chef Howard entered the Chef Mentorship program and held his first Sous-Chef position. A year later, he went to Europe where he worked as Chef de Cuisine and later became Executive chef of a newly built resort. He worked in Germany for the next ten years and finally returned to the states, when he and his wife decided to start a family. He began working for Washington State University as Executive Chef for the Athletic department, producing nutritional cuisine for their Athletic training table. Chef Howard has attained certifications for both his Certified Executive Chef and most recently, his Certified Culinary Administrator. To this day, his favorite foods to prepare come from his Southern upbringing, his exposure to the freshest seafood and his training preparing classic soups and stews.
Will Wohlfeil - Executive Chef, Northside Café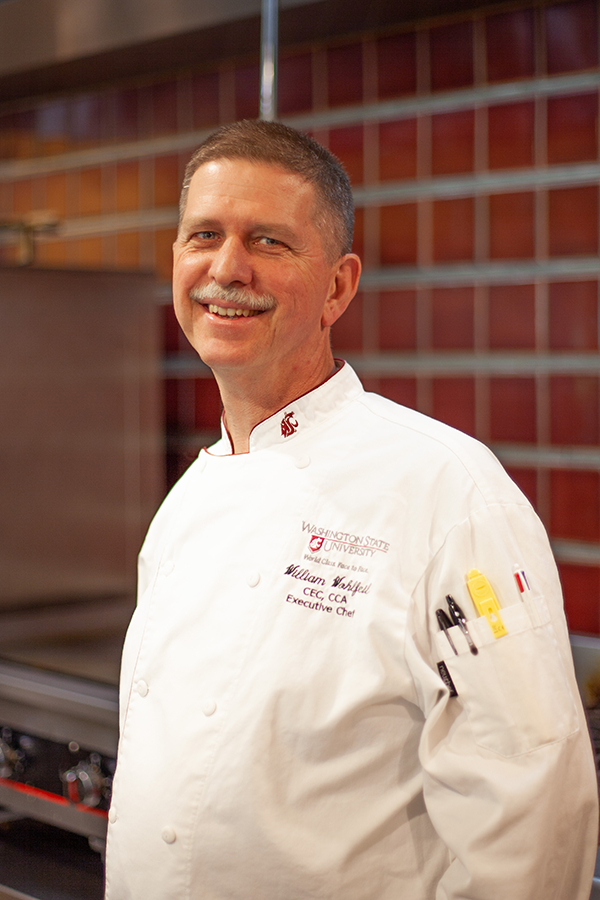 Chef Will Wohlfeil's culinary experience stretches back to high school, when he started his first food service jobs at a burger joint and donut shop. While attending the University of Idaho, he worked at the original Gambino's restaurant in Moscow. Having learned the basics, Chef Will was driven to further his skills and build a career in the culinary arts. Chef Will went on to work at fine dining, seafood, breakfast, and counter-service establishments. For 20 years, he was the executive chef at Pullman's Hilltop Restaurant, a fine dining restaurant, and pit master at Porky's Pit BBQ, which serves Texas-style wood-smoked BBQ. Most recently, he was the kitchen manager at South Fork Public House in Pullman, where he introduced BBQ dishes to the menu. Throughout his career, Chef Will has continued to learn new culinary techniques, which he is excited to use in his work at WSU. His favorite foods to cook are smoked and full-flavored dishes. One of the dishes he would encourage students to try at Northside Café are the baked subs at the Presto platform, because they can easily be customized to a student's individual tastes. When asked about Dining Services' core values, Chef Will said there are several that especially resonate with him and describe his work at WSU: being considerate, being united, valuing diversity, and being committed to a culture of teamwork and collaboration within the workplace. "These are all very important to my career," he said. Chef Will is also an amateur photographer and spends his spare time reading and enjoying the outdoors.
Christian Siple - Executive Chef, Catering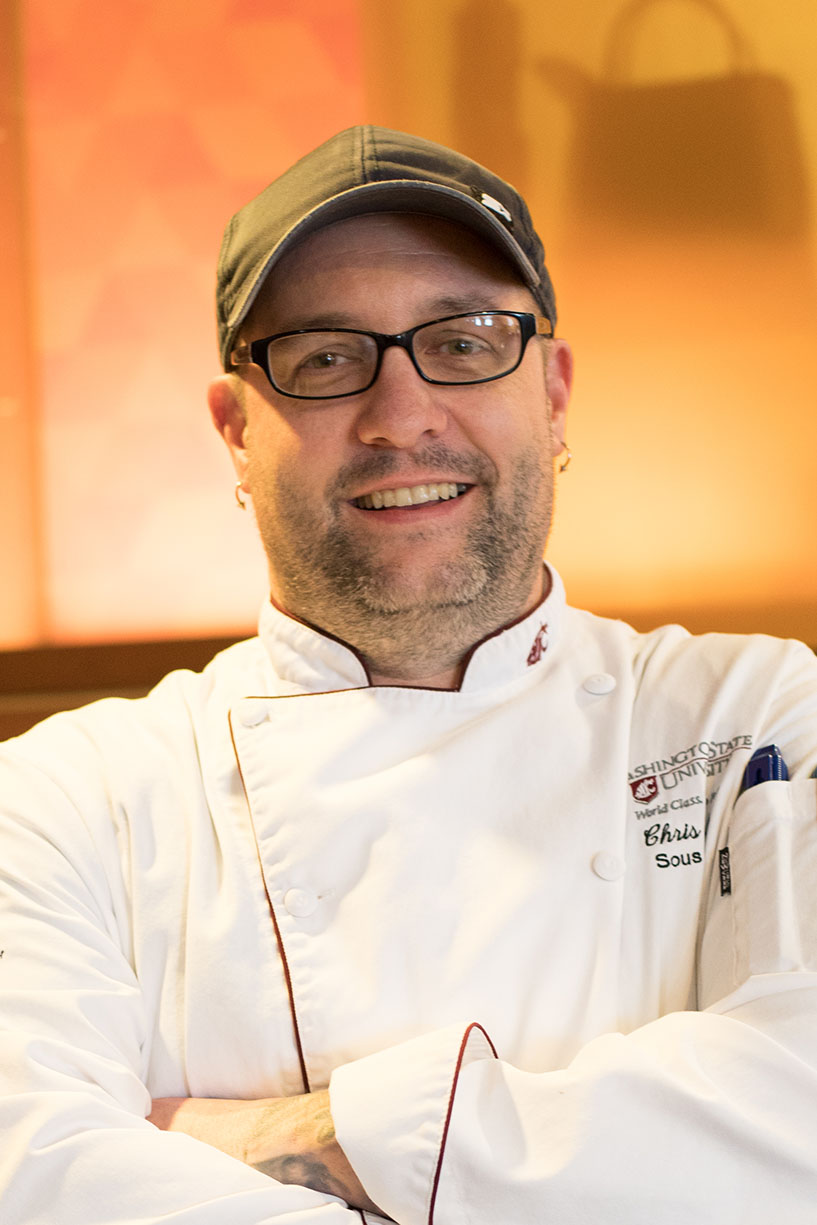 Chef Christian Siple began work in the restaurant industry 20 years ago as a dishwasher. He was drawn to the personalities and the "work hard, play harder" mentality in kitchens. Soon he started his first salad/prep job, which turned into a Lead Line Cook job, and later his first Kitchen Manager job. Over the next 15 years, he worked in higher-volume restaurants in the area. For almost four years, he worked at Old European in Pullman as Lead Line Cook/Kitchen Manager. In 2011, he began working for WSU Dining Services as a Food Service Lead, then as a Cook 2, then as Sous Chef for the Test Kitchen, and now as Executive Chef of Catering. In his spare time, he enjoys spending time with his wife, daughter, and border collie. He enjoys all things culinary and hip hop. Christian loves working with and learning from all the extremely talented culinarians working in Dining Services.
Daniel Johnson - Executive Chef, Hillside Cafe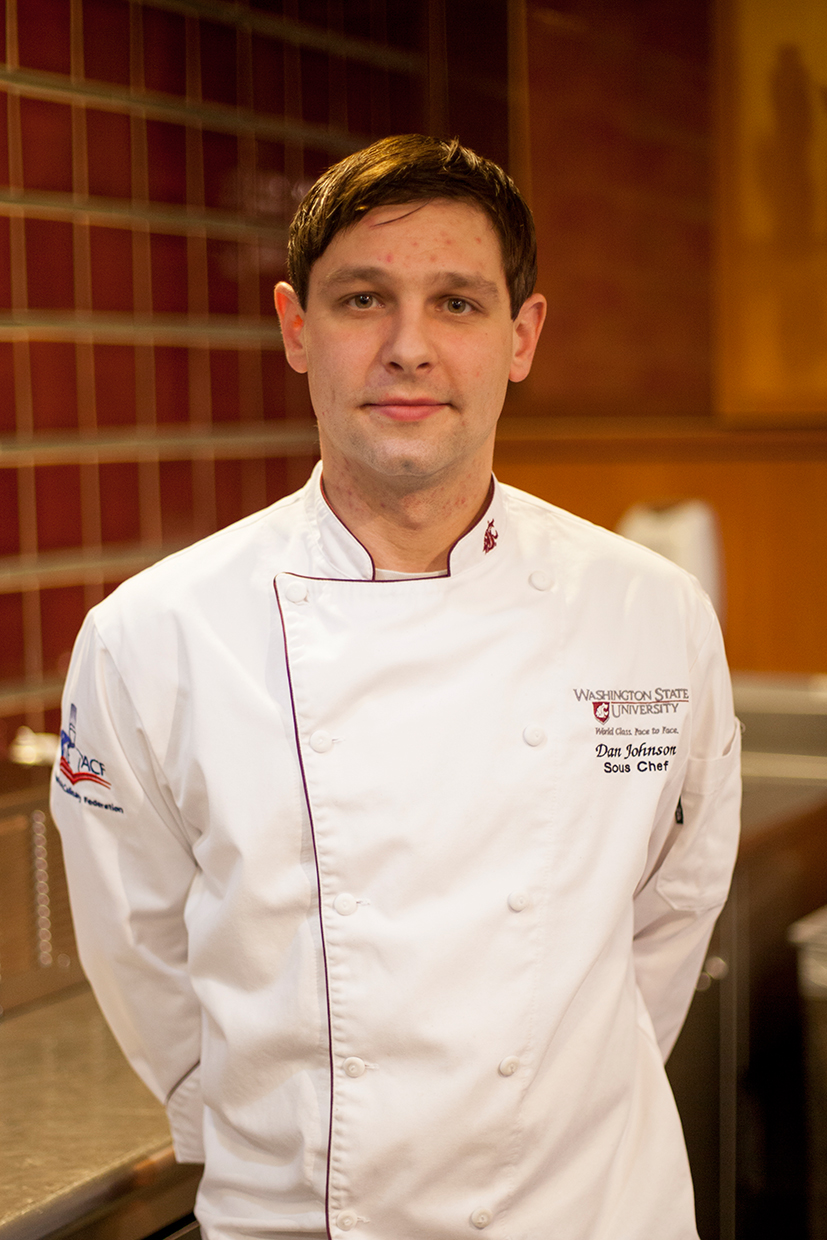 Chef Daniel Johnson's most enjoyable moments growing up were making holiday treats with his grandma. This instilled in him a passion for making people smile with tasty food. While working his way up at an array of kitchens, he attended culinary school at the Inland Northwest Culinary Academy. After finishing school, Chef Daniel worked at private resorts in Idaho, including Blackrock Golf Course and The Valley Club. Being a native of the rolling hills of the Palouse, it was only fitting to come back home and become part of the Coug family! Chef Daniel enjoys working with quality local and sustainable ingredients and loves to share his passion of food with WSU students. He looks forward to the next Cougar Chef Throwdown competition.
Thomas Edinger - Executive Chef, Central Production Unit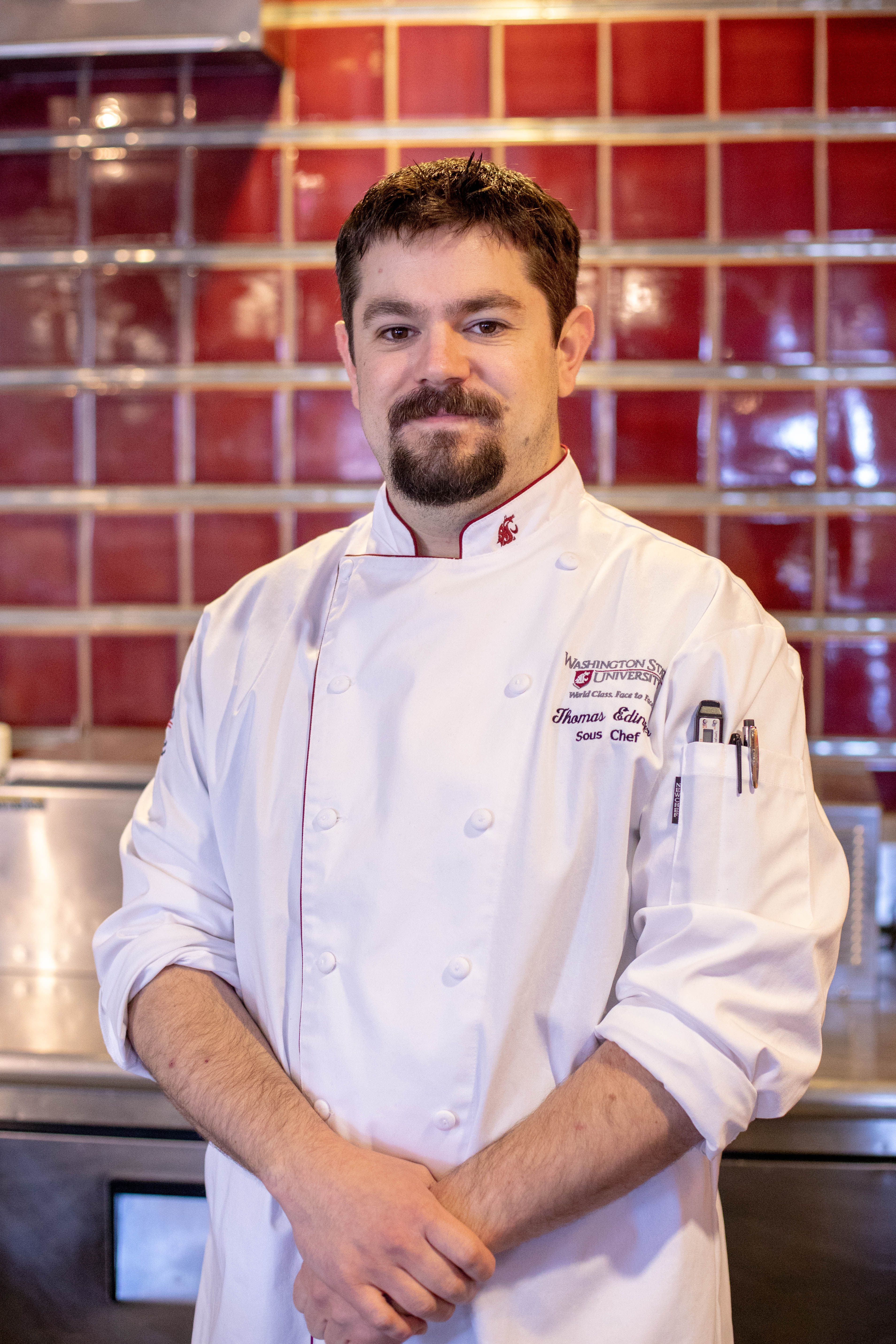 Chef Thomas Edinger grew up in the Inland Northwest, Eastern Washington. His culinary journey began by helping his mom cook at home, as well as helping her with prep work and washing dishes at restaurants where she worked. Chef Tom started his first professional kitchen job in 2005 at a Denny's truck stop near Spokane, where he worked as a dishwasher and graveyard cook. He developed his culinary chops by working his way up in a few restaurants in downtown Spokane, before moving to Pullman to study science and engineering at WSU. While pursuing his degree, he began working in local restaurants, including Swilly's Bistro, an international fine dining kitchen, and Southfork Public House. While working in Pullman, he realized his passion for the food, the people, and the environment of the professional kitchen, and he has been dedicated to expanding his culinary knowledge and skills ever since. His favorite cuisine to cook is comfort food, and he is also interested in what he calls 'international comfort food.' Having grown up in farm country, Chef Tom is passionate about supporting local farmers and providing the freshest quality food for students and the community.
Mark Premeaux - Sous Chef, Southside Cafe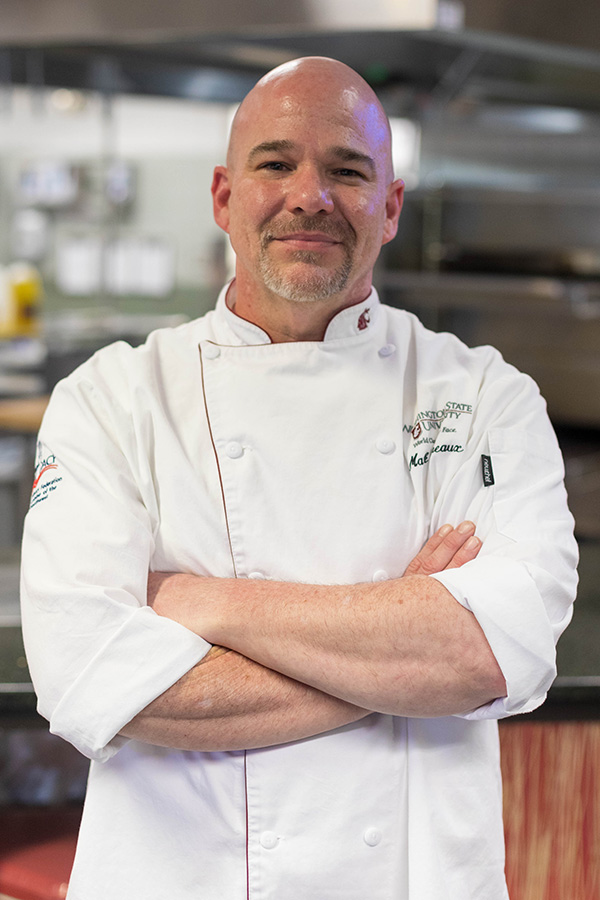 Chef Mark was born and raised on the Hawaiian Island of Oahu where, at a young age, he was introduced to a wide range of flavors including Filipino, Thai, and Portuguese cuisines. At the age of 18, he set out to travel and worked in notable culinary destinations like Chicago and San Francisco's Fishermen's Wharf before landing in Las Vegas. Chef Mark was on multiple opening teams for new resorts and restaurants and continued to grow until finally getting his first Chef de Cuisine at the Tropicana resort. After leaving Las Vegas Chef Mark has worked for notable companies like Ritz-Carlton and Ruth's Chris Steakhouse, eventually landing in Moscow, Idaho as the Executive Catering Chef at University of Idaho. Chef Mark is excited about working with such a diverse core of talented chefs and looks forward to becoming an integral part of the team and seeing what amazing accomplishments the future will bring for him and the WSU dining department.
Allyssa Sheppard - Sous Chef, Southside Cafe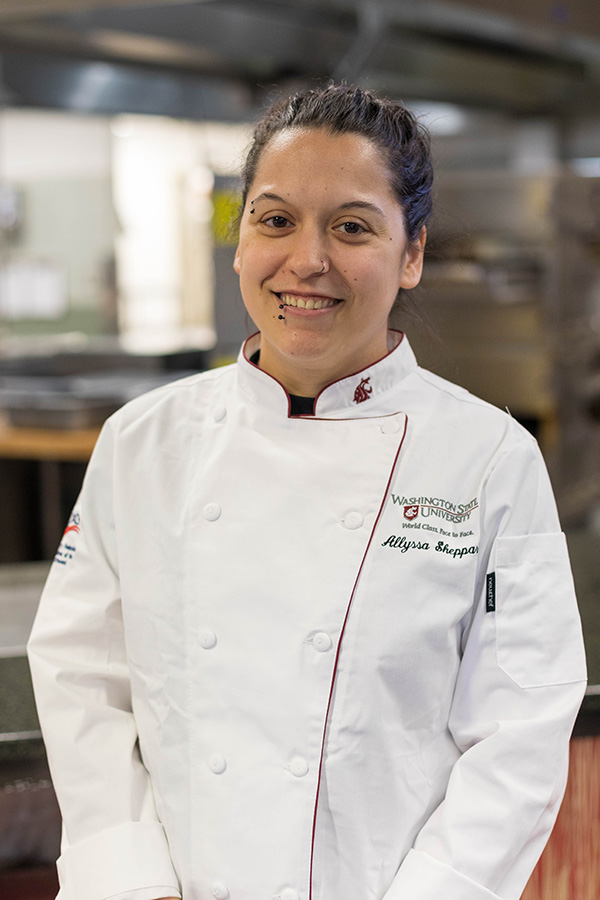 Allyssa moved to Pullman in 2010 to pursue a career in Psychology and found a passion and love of food. While working through college, she worked at Red Sage Café, Fork in the Road Catering, and has now been with WSU Dining for three years. Allyssa started as a Food Service Worker Lead, quickly made it to Cook 2, worked as an Associate Manager, and became Sous Chef at Southside at the beginning of 2022. The role as Sous Chef at Southside has been the most fun and challenging position so far. While in Pullman, not only did Allyssa fall in love with food, but she fell in love and got married in 2020. The Palouse has become her home over the past 10 years and will be for many years to come. She spends most of her free time, cooking up new curries to try, spending time with friends, at home with her husband and their pets or visiting with local family.
Jeremiah Sprague - Sous Chef, Northside Cafe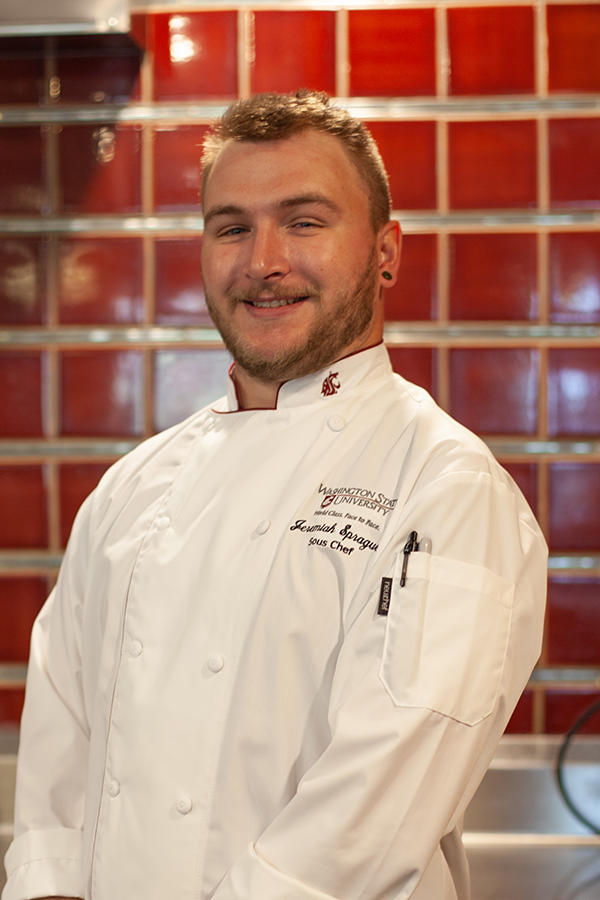 Chef Jeremiah Sprague grew up in the Tri-Cities. Growing up, his mother always made delicious food, which was the centerpiece of bringing his friends and family together. Chef Jeremiah originally saw himself pursuing a different career path in life. However, after he acquired a prep cook job at Pullman's local Birch and Barley, it sparked a passion for Culinary Arts. Through love, dedication and hard work, he was promoted to Sous Chef. Chef Jeremiah credits his culinary mentors for his growth and development. Executive Chef Michael Jones at Birch and Barley taught him how to operate a high-performance kitchen, instilling core competencies and skill sets to enable Jeremiah to reach the next level. Simultaneously, Chef Jeremiah attended Washington State University's ACFEF Culinary Apprenticeship program, led by Chef Jamie Callison. Through Chef Callison's mentorship and passion, Chef Jeremiah acquired not only the required culinary skills to be successful, but the business and soft skills. Chef Jeremiah strives to pay tribute to his mentors, through a deep passion for cooking and bringing joy to people through food. Most recently, Chef Jeremiah passed his ACF Sous Chef Certification practical exam. He is excited for the opportunity to be the Sous Chef at the Northside Cafe to further his knowledge, and give back to as many as he can.